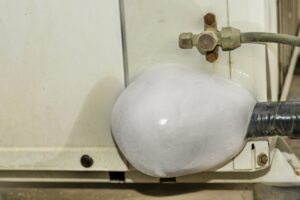 This must be one of the most perplexing problems to have happen on an extremely hot day. We've had scorching hot temperatures this summer, and they seem to be sticking around. But your air conditioner might still be growing ice on the coils even in that heat. How the heck does that work?
Well, AC repair in Newberry, FL is a bit complicated, so we can't necessarily answer this question in one quick sentence. In a nutshell: ice grows on an air conditioner due to a number of different reasons, but none of them are good and they're all a result of poor airflow or lack of refrigerant. You see, that ice that's forming on the side of your air conditioner is not being felt by you or your family, and it's basically just a waste of cool temperatures that would otherwise be in your home.
So, let's talk in detail about this peculiar problem. Then, we hope our newly informed customers will be quick to schedule a repair appointment with one of our technicians to have the issue diagnosed properly.