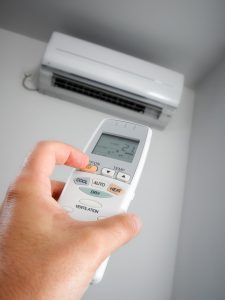 While the official start of fall is a few days away and homeowners in other parts of the country are preparing to turn their air conditioners off for the rest of the year, we still have a long way to go before we can turn our attention to our heaters (and some years, we don't even use those much!)
So, what if your Gainesville, FL air conditioning system hasn't been functioning very well this season? Did you have maintenance done? How about follow-up repairs? Still not working as well as you think it should? Then it's probably time to consider a cooling system replacement. If you already have a central air conditioner in place, then you may be tempted to just get the newest model of that same type of system. But that's not your only option!
Consider Going Ductless
A ductless cooling system, as the name implies, does not utilized ductwork to circulate air. Rather, it uses air handlers installed in rooms throughout your living space. Each air handler is tasked with conditioning only the room in which it is installed, with up to four indoor air handlers connected to a single outdoor unit. These air handlers are controlled independently of one another, with their own thermostat. Similar to heat pumps, ductless systems are capable of performing as both cooling and heating system.
A little construction is required with a ductless installation, since most homes aren't outfitted to use them—but this is minimal. It involves mounting up the air handlers and drilling a very small hole in the wall behind each air handler to pass the conduit through, which contains the power source and refrigerant needed to run the ductless system. Due to this complexity, ductless installations do often cost more than other traditional systems. However, the benefits can make this well work it. These advantages include (but aren't limited to):
Improved Energy Efficiency
Ductless systems are a lot more energy efficient than many other systems. First off, you don't have to worry about air leaks through ductwork—and those leaks are responsible for up to 30% of energy loss! It's definitely a significant thing to avoid if you can.
Ductless systems are also more energy efficient than many combustion based heating systems since they don't have to burn any type of fuel to generate heat. Since we use our air conditioners so much more than our heaters, it makes sense you want to save money wherever you can—if you can save on your already seldom-used heater, then great, right?
More Versatility
Have you ever argued with another family member over what temperature to set the thermostat at? Or maybe you had a passive-aggressive squabble in which one person kept turning the temperature down and the other up. Don't worry, it happens in a lot of families! But, it doesn't have to. Like we mentioned above, ductless air handlers each have their own thermostat, enabling you to set the ideal temperature for the room you're in without bothering anyone else in the home.
At North Central Florida Air Conditioning, we are "Improving Lives by Improving Homes!" Contact us today.