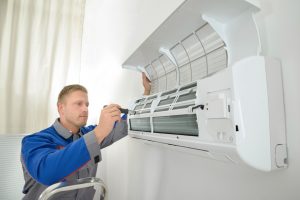 As we say often in the industry, we're living in a ductless world nowadays. Ductless air conditioners are all the rage and for good reason! They're highly efficient when it comes to energy usage, as well as a few perks that central air conditioners don't have. However, it's only right for us to be honest about why it's necessary to contact a professional for ductless installation. A lot of homeowners think they can set up their air conditioning in Live Oak, FL themselves, but you could run into some serious problems without proper training.
The advantages of ductless air conditioners are well worth the cost of calling a professional for the installation. Don't take this the wrong way, we highly recommend heat pump air conditioners for their advantages, but it's always better for consumers to know exactly what they're getting into. You'll want to know these few things before you make the dive into ductless technology yourself.
Let's get started!
Professional Installation
There's only one way to make sure that the following ductless AC problems don't apply to you. By hiring the right AC installation technician, they can make sure that none of these problems ever occur. By installing a ductless air conditioning system yourself, you could miss something that an expert with years of training would normally check.
Mounting the Units
Ductless air conditioners are comprised of many air handlers that run through your home. They connect to the exterior unit (which we'll get to in a second) but firstly, these units need to be mounted on the walls of your home to work. Before you just start nailing your air handler to the wall, you've got to understand that these units require special wall mounts. If your air handler is placed incorrectly due to poor installation, you might not just have to pay for repairs to the air handler, but to your wall and insulation as well!
Exterior Cabinet
Something we don't understand is why some homeowners think they shouldn't install a central air conditioner on their own but that they should install a ductless AC system by themselves. Both systems have an exterior unit that requires a pretty complicated setup. A ductless AC system connects the various small air handlers with an exterior heat pump system via power lines and refrigerant lines. This means that a poorly done installation of these components could ruin the refrigerant lines and thus break the entire system.
Full-home air conditioner systems are like cars. Sometimes you can do more harm than good when you try to repair a problem in your car before calling a mechanic. We often like to think that we can take care of anything after watching a quick video online and reading an article, but the truth of the matter is that air conditioner installation requires years of training. We have a team full of NATE certified technicians who have careers dedicated to making sure that your air conditioning system will work for years to come. If you'd like to jeopardize your comfort and budget by setting up your ductless AC yourself, then it's really up to you.
If you're looking to set up a ductless air conditioner, call North Central Florida Air Conditioning. We're improving lives by improving homes!