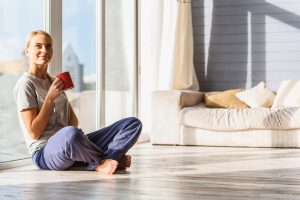 Let's face it, here in Florida, we don't get a lot of use out of our heating systems. Especially if you are one of the many homeowners around here that are using a furnace rather than a year-round heat pump or ductless system. Just because you're using a furnace though, and just because you won't be using it for as many weeks as homeowners in colder parts of the country, doesn't mean you can't save money while keeping your home comfortable.
Nobody should have to overpay for their comfort. This is especially true if you call on our team for expert HVAC services in Lake City, FL, as we will help you maintain both your heating and cooling systems for optimal longevity and peak performance. And the good news is that there are very simple things you can do around your home to boost the efficiency, and therefore the cost-effectiveness, of using your furnace. Keep reading for some tips on how to do so!
Update Your Thermostat
This is a small component that has a big job—it's essentially the "brain" of your HVAC systems. It's not a minor device by any means, even though it is small. The thermostat communicates with your heater, and your air conditioner, and if it is malfunctioning, miscalibrated, or even outdated, it may not be giving accurate instructions to the comfort system, and therefore could be costing you.
You might be surprised by how much more you may be paying for inadequate heating and cooling, just because of your thermostat.
Utilize Weatherstripping
The heat from your furnace system can escape through cracks in your doors and windows, which means that you're losing energy that you are paying for. Consider investing in weatherstripping to seal your windows and doors, and to ensure that the heat in your home stays in your home!
Use Your Ceiling Fans
Not many homeowners actually know this little trick. Sure, you know that you can use your ceiling fans in the summer to create the movement of air that is coming from your air conditioner more efficiently.
Well, you can reverse the direction of the fan blades with a switch in the center of your fan, to push down heated air from the ceiling for faster distribution of warmth from your furnace, too! This means you can turn your thermostat down a bit, and therefore it won't run as long, saving you money.
Don't Skip Maintenance
Scheduling regular maintenance service for your furnace system is truly the best way to ensure it works as effectively and efficiently as possible, for as long as it's designed too. During maintenance, out technicians fully inspect your furnace for any potential repair needs, making necessary adjustments and thoroughly cleaning the entire system, inside and out. All of these steps ensure that the furnace works as best it can—meaning, as efficiently as possible.
Maintenance is a service that should be scheduled once a year for your furnace system. You may think you can skip a year if your furnace gets little use, but this isn't a good idea—especially since a furnace can accumulate more dirt and debris when it's not used, and therefore could really use a good cleaning before you turn it on again.
At North Central Florida Air Conditioning, we're "Improving Lives by Improving Homes." Contact us today!