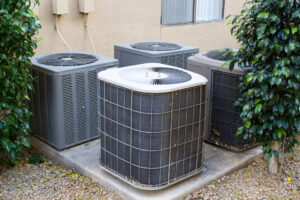 Well, it's no surprise that summer temperatures are out in full force. If you turn on the news you'll see reports of heatwaves hitting every corner of the country, including our neck of the woods. Luckily, we're not the news, and we're an HVAC company that's ready for any temperature fluctuation that can possibly come. As your local team of specialists, we'd like to help you with some great tips to keep your home running efficiently.
Efficiency and comfort go hand in hand when it comes to air conditioning in Newberry, FL. The more efficient your air conditioner is, the more comfortable your home is likely to become. Likewise, the more comfortable your home is, that's usually a good sign that your AC is running efficiently.
Either way, let's talk about some ways to help improve the efficiency of your air conditioner and keep things comfortable!
Tip #1: Remember the Temperature Differential
The temperature differential is what we call the difference between the outdoor temperature and the indoor temperature. The hotter it is outside, the harder it is for your air conditioner to cool things to the measurement set on the thermostat. Most residential air conditioners can only reach about 20 degrees below the outdoor temperature. No, it's not because your air conditioner isn't as powerful as you thought it was, it's mainly because it takes a huge amount of energy to cool a home down beyond that. Sure, you might see a few degrees below that temperature differential, but it's going to cost you a lot more in your utility bills.
A good rule of thumb is to keep your thermostat set for no more than 20 degrees below the outdoor temperature. This will ensure that your system runs efficiently.
Tip #2: Invest in a Dehumidifier
Humidity makes homes feel hotter than they actually are. Sure, your air conditioner can do a small amount of dehumidification while it cools things down, but it's not designed to dehumidify your home. Eventually, all of that moisture and humidity will harm the efficiency of your air conditioner and make it work harder than it should have to.
A great solution to this problem is to invest in a dehumidifier system that can help remove the moisture from the air. When these two systems work together, you can have your AC cool the indoor temperature while the dehumidifier removes the moisture. This will keep things energy efficient and your home more comfortable for it!
Tip #3: AC Maintenance Can Help
Air conditioning maintenance is a vital service that needs to be performed every year. It allows for one of our professionals to check your air conditioner and make sure it's in good shape for the summer. With record-breaking temperatures hitting us every year and humidity that makes us feel uncomfortable, it's important that your air conditioner works to the best of its ability. AC maintenance is your ticket to enjoying the most energy-efficient and effective air conditioning unit available.
Call North Central Florida Air Conditioning today to improve your AC. Improving Lives by Improving Homes!