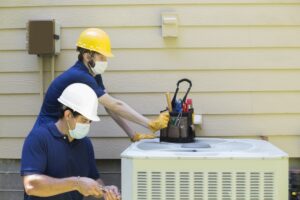 We know that when hot temperatures hit our area, it's easy for our minds to wander towards our air conditioners. We start thinking about the worst-case scenario when our AC might falter on the hottest day of the year. Or, we might start regretting that skipped maintenance appointment that really should have been done during the springtime. What homeowners don't think about too often, however, is who they're paying to do these valuable services. AC repair in Gainesville, FL can be a pricey endeavor, so it's becoming clearer every summer that hiring the right professional is a big decision to make.
Today, we'd like to talk about where our team stands. We'll discuss why people choose us time and time again to fix their air conditioners, and why you might consider choosing us for the first time over an amateur. It's time to take your air conditioning services to the next level.
Trustworthiness and Long-Term Solutions
Trusting your prospective HVAC provider is an important part of the process. This technician will not just enter your home, but they'll be tasked with keeping some of the most expensive equipment you've ever purchased in good shape. They need to be confident in their ability to keep you comfortable and happy, as well as invested in your future and the future of your home. If they're not, then all bets are off!
The easiest way to tell how trustworthy a professional team is, is to look at their reviews and ask your neighbors and community members. If the people all over the community are constantly turning to them for great work, then you know you're looking at a team that's worth the price.
24/7 Emergency Services
Not every HVAC company has the resources, the management, and the size to provide 24/7 emergency services to customers throughout the area. This is unique, because it's something very valuable to have access to that not every company can give. If your air conditioner breaks down in the middle of the hottest night of the year, or it's failing on a holiday, our team can provide you with the repairs you need no matter how inconvenient the time is.
Warranties That Last
Warranties are incredibly important for your budget and the lifespan of your system. A warranty ensures that you don't have to cover any repair costs for a certain amount of time, granting you peace of mind and the ability to invest in quality maintenance with your money. We are the only Franklin authorized dealer in the area with a 10-year bumper-to-bumper warranty, as well as a lifetime workmanship guarantee on our work. This type of quality is only achievable when you work with pros from our team.
Experience in the Field
Last but definitely not least, experience in the field is a necessary component to professional service. While a technician might seem trustworthy and offer a great set of services, if they don't have much experience in the HVAC industry, how can you trust that they'll get the job done right?
Talk to your prospective HVAC professional and ask them about their experience. A great technician will always answer your questions and will be confident in the work they provide.
Call North Central Florida Air Conditioning today for high-quality work that keeps you comfortable!