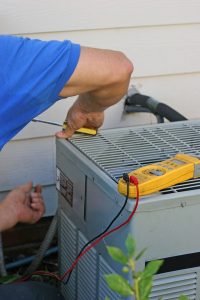 You wouldn't skip maintenance for your car, right? After all, if you did then you could all of the sudden find yourself stranded somewhere due to a breakdown. Well then, with temperatures already in the 80's during the day and your air conditioner probably already being used on a daily basis, why would you skip a Gainesville, FL AC maintenance appointment?
Doing so could leave you stranded in another way—stranded in your home without reliable cooling. This would obviously be uncomfortable, and in our area of the world it can also be unhealthy. There's this idea among many homeowners that maintenance is some sort of "luxury" service that only a select few can afford. But maintenance is not only affordable, it will actually save you money over your system's lifespan, since you'll be less likely to run into surprise repair issues or premature system replacement.
The Many Benefits of Professional AC Maintenance
There are a number of projects around your house that lend themselves to great "do-it-yourself" tasks. Even with maintenance, there are a couple things you can do on your own, such as changing your air filter on a regular basis, and making sure the system is unobstructed to help with airflow.
We'll get to those a little later, but in the meantime, we must stress that if you want your AC maintenance to actually make a difference to the performance and lifespan of your cooling system, then it must be done by a professional. Scheduling your tune-up with a pro will:
Boost Cooling Efficiency: If an air conditioner is dirty, has loose components, or is in need of repairs that you've been neglecting, then there is no way that it can perform as efficiently as it's meant to. Maintenance actually helps your cooling system retain about 95% of its original efficiency levels when it was installed.
Increase System Reliability: We wish there were such thing as a 100% reliable air conditioning system. Unfortunately, there isn't—if you use a whole house AC system you are going to need repairs on it at some point, even if minor. But regular maintenance will help keep these repair needs to a minimum so you can count on your system performing as it should.
Extend Your Air Conditioner's Lifespan: By not keeping up on maintenance, you're allowing your air conditioner to accumulate more wear and tear than it would have otherwise. Therefore, it's less likely that the system will actually last its entire lifespan. Extend your AC system's lifespan by scheduling regular maintenance sessions!
Maintenance Tasks to Do On Your Own
As we mentioned above, there are a couple tasks you can do on your own. Changing your air filter is one of them. Many homeowners mistakenly believe that the air filter that comes with their cooling system is meant to protect the quality of their indoor air. But it's actually there to protect the cooling system from accumulating too much dirt and debris to effectively do its job.
Another task you can do on your own is to look around your system's outdoor unit and make sure it's cleared of debris, such as twigs, lawn mulch, leaves, etc. These items can restrict airflow and cause your air conditioner to work harder than it should have to, to do its job. Inside the home, make sure none of your vents are obstructed, for the same reason.
At North Central Florida Air Conditioning, we're committed to improving lives by improving homes. Contact us today for superior HVAC services.