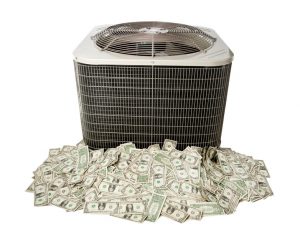 The short answer is, "it depends." There are a number of factors that go into the cost of a Gainesville, FL air conditioning installation. We know that nobody likes to be surprised with the news that they need a new air conditioner, and looking at your purchase options can be a bit overwhelming. You want to stay within your budget while also investing in a cooling system that will work efficiently and save you money from month-to-month.
Keep reading for a brief breakdown on what goes into determining an air conditioner's cost, when you can expect to pay more, and what you can do to ease the financial burden of this purchase.
Let's Break It Down
All things considered, no efficient air conditioner is going to be "cheap," but that doesn't mean you can't find ways to make it affordable, whether we're talking about the upfront costs or the monthly costs you can expect to pay while cooling your home.
As far as actual numbers—generally speaking you can expect to spend $3,000 to $5,000 on a new system, although depending on the unit, how large your home is, and any other special considerations, some people have spent as much as $10,000 on their AC installation. It's also important to remember that just because a company advertises cheaper prices, labor might not be reflected in the costs.
The cost is going to be affected by things like finding the best system for your exact home and needs, getting the system appropriately sized for your home, making sure it's efficient enough, and only investing in professional installation so you don't find yourself paying for mistakes later on.
Actions to Avoid When Buying a New AC
There are some misconceptions out there when it comes to what will save you money and what won't. We'd like to help spare the confusion and your wallet by busting these myths and giving you some actions to avoid when buying a new AC system:
Don't Buy a Smaller System Because It's Cheaper: There's a misconception that any home can get by with a smaller air conditioning system—after all, it will be cheaper, right? Unfortunately, it will do a very poor job of effectively cooling down your home and as a result you'll be paying more for your cooling system than you should be, and the cooling system will have to work too hard, leading to premature breakdown. It's worth noting that too large of a system can be bad as well—it will go through a process called short cycling where it turns on and off rapidly, wearing down the system.
Don't Try to Install the System Yourself: There are a number of reasons we advise against this. An air conditioner that's not installed the right way won't work as well as it's meant to, and may not even work at all. You may also void the manufacturer's warranty by not allowing a professional to install it, which can end up being way more trouble than it's worth.
At North Central Florida Air Conditioning, we are "Improving Lives by Improving Homes." Contact us today for exceptional HVAC services.