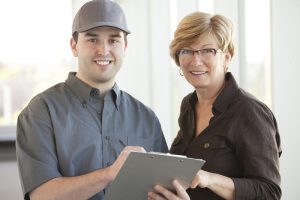 When you live in our area, you understand how important it is to have a fully functional and reliable air conditioner all summer long. You probably do all that you can to make sure this is the case—scheduling air conditioning maintenance in the spring, keeping up on repairs, changing your air filter every 1-3 months. But, did you ever think about your ductwork?
Duct breaches, whether it be from shoddy installation or outside forces damaging the ductwork, account for a significant amount of air loss. This means that the conditioned air you are paying for may be leaking into areas such as your unoccupied attic or crawlspace where your ducts are located. How can you determine if this is impacting your home, though? By contacting our team for professional Gainesville, FL duct testing and sealing as well as blower door testing, that's how!
Testing Your Ducts
This is not something you can do on your own. True, you may be able to detect that you have a ductwork breach of some kind. Perhaps there's hot spots in your home that indicate that section of ductwork isn't distributing cold air. Or maybe you hear significant rattling coming from the ducts you've never heard before. These symptoms are reasons you should call an HVAC pro.
By testing your ducts, we can not only confirm that you do have a leak somewhere in the system, but we can accurately pinpoint where it's coming form and then recommend best next steps, whether it's duct sealing or even duct replacement if the system is too far gone.
Blower Door Testing
Our staff will first perform a duct tightness test to see how much air, if any, is being lost from your air ducts. We'll follow that up with blower door testing, which is an efficiency test of your home's envelope. The envelope is the physical separator between the interior and exterior of a property—so walls, floors, doors, roofs, windows… etc.
Blower door testing helps us assess how your living space uses and wastes cooled (or heated) air. All your home's openings are closed, and we attach a fan to the frame of your front door. This fan pulls air from the house, measuring any that flows through the fan. Pressure within and outside the home are measured, and the fan is calibrated to maintain a constant air pressure differential.
The amount of times that air in your home is completely replaced in any given amount of time enables our technicians to judge just how efficient your home is. Air is forced into your home through leaks in the walls, ceilings, window and door frames, and more. These leaks can be easily detected during the process, and then once they're located they can be sealed.
Solve Your Home's Efficiency Problems
Duct and blower door testing are both great ways to locate and resolve efficiency issues. If you're running your cooling or heating system in a home with air leaks, you could be wasting a significant amount of energy and money.
For quality ductwork and other indoor air quality services, you needn't look any further than North Central Florida Air Conditioning. Contact us today—we are improving lives by improving homes!