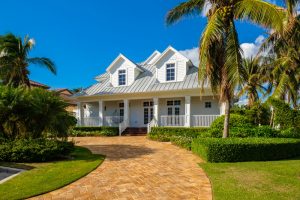 Florida residents are definitely no strangers to the heat and humidity that plagues our state every summer and beyond. When the humidity levels rise, they not only impact how comfortable—or uncomfortable—we feel, but they make it harder for our air conditioners to do their job, too. AC systems are set up for temperature control, and not to improve your indoor air quality.
For better air quality, in this case, you need a whole-house dehumidifier. A whole-house dehumidifier solves problems that your air conditioner can't, and also helps that system do its job. But how does all this work, and why is it so important? Keep reading to learn more.
The Problem with High Humidity
High humidity is defined as a relative humidity level above 50%. At this level, there is too much moisture in the air for sweat to evaporate off of your skin, which is your body's primary means of staying cool. It leads to that sweaty, gross feeling we all get on muggy days, and makes the air feel hotter than it is.
More importantly, this excessive moisture encourages the growth of mold and bacteria if allowed to continue. In the worst cases, it can even damage the furnishings in your home. Air conditioners do have some dehumidification properties, but not enough to make a discernable difference in comfort or the health of your property.
This dehumidification ability leads many homeowners to believing they don't need anything else, but your air conditioner simply isn't built for Florida humidity. Air conditioners contain a drip pan and drip line to deal with condensate, but they get overwhelmed when humidity levels are too high. In fact, most cooling systems will shut themselves down automatically when the drip pan overflows to prevent electrical shorts.
Even if your AC system doesn't shut down, however, the added stress of dealing with humidity on its on can increase the chance of malfunction or breakdown. And that extra energy means your monthly cooling bills will be much higher than they should be. It also means that your air conditioner is likely to have a much shorter overall lifespan than it would have otherwise, even with proper care and maintenance.
The Whole-House Dehumidifier Solution
A whole-house dehumidification system operates to the same basic principles as your air conditioner, however because its sole purpose is to lower humidity, you can tailor the moisture levels to suit your taste. This system does a much more effective job of keeping humidity levels balanced, thus protecting your property, not to mention your health—which can suffer from the development of mold and mildew.
Dehumidifiers are simple to use and operate, particularly when installed by trained and experienced professionals. They work in combination with your air conditioner, meaning you don't need to take any additional steps or engage in any extra work to enjoy the benefits of such a system.
At North Central Florida Air Conditioning, we're "Improving Lives by Improving Homes!" Contact us today for exceptional HVAC and indoor air quality services.