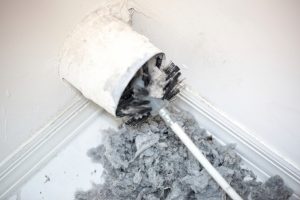 Would you think us crazy to say that your clothes need to be cleaned after one or two uses? How about if we said that your floor could use a good mopping every month or two? By no means are these statements farfetched, and we'd like to expand that category of "things that should be cleaned" to include your air ducts. We know, they're out of sight and nobody attending your holiday party is going to be able to see them, so why even bother right?
That's where you'd be wrong! Duct cleaning services can be necessary to improve indoor air quality, save energy costs, and keep your heating and air conditioning system functioning at full capacity. If the health of your family is as important as we think it is, you might want to pause for a brief moment and listen to what we've got to say.
Dirty Ducts
If you've never seen pictures of what an air duct looks like that hasn't been cleaned, we implore you to do so. The amount of dust, mold, pet dander, allergens, and debris that can sit in your ventilation system is pretty abhorrent. That's where air duct cleaning services can come in handy.
Dust, Pet Dander, Debris, and Allergens. As we mentioned earlier, dust, allergens, pet dander, and more can get lodged in the interior of your duct system. These particles can exist there all year around, keeping you sick for longer and providing you with coughing and sneezing when you'd rather breathe easily.
Mold and Mildew. Your air ducts are dark and depending on the humidity level of your house—damp. This means your ductwork can be a prime location for mold and mildew breeding. These particles can also keep you sick all-year-round which is why duct cleaning services can be absolutely essential for your health.
Furnace / Air Conditioner Efficiency. Up to 30% of conditioned air can be lost in the ventilation system of your home. While this can be from leaks or any number of reasons, dirty air ducts can make the problem that much worse. Dust, debris, and other contaminants can form a thick layer in your ductwork, causing your heater or air conditioner to work harder than it should to have consistent airflow.
How Often Should My Ducts Be Cleaned?
We recommend having your air ducts cleaned every few years. Dust and debris doesn't accumulate that quickly, but usually when we examine the air ducts of homeowners, they've been neglected for many years. Nothing feels worse than having a struggling furnace try and heat your home through air ducts that are caked with dust and germs, pushing stale and contaminated air into your living space.
That's why we provide expert duct cleaning services to the Gainesville area. Someone needs to pay close attention to air ducts, and since so many contractors don't provide that service, it can be a shame when the air in so many of these homes gets stuffy and contaminated.
Call our experienced team at North Central Florida Air Conditioning for some quality air duct cleaning. Improving lives by improving homes!