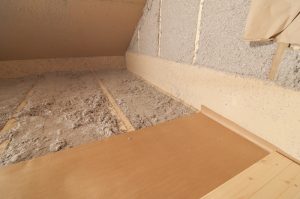 If you're like the average homeowner, you probably associate insulation with cold weather. We certainly wouldn't blame you for thinking this—after all, when you are cold you want to be well insulated, right? Of course, living in our area, you don't need to worry about cold weather too much, so you may ignore the importance of proper insulation.
But insulation does more than just protect you from the cold. In fact, it benefits your comfort year round! Sure, insulation helps in chilly weather, but this is not all professional insulation service is for. It's for guarding against heat transfer, which we'll get to below.
What Do We Mean By Heat Transfer?
Insulation does certainly benefit homeowners throughout the country in the wintertime, there's no argument against that. But it does this by preventing heat from transferring out of your home and into the air outside. But heat transfer works both ways.
In our Florida climate, the ability to prevent unwanted heat transfer into your home is even more important. Either way you swing it, if you don't have adequate insulation installed in your home, heat transfer will occur. And as a result, your air conditioner won't be able to work as efficiently as it should, since you'll be trying to adjust the thermostat lower than you'd otherwise need to.
What's the Best Type of Insulation?
Blown-in cellulose insulation is the choice of many HVAC professionals. The reason for this is because it's among the most efficient types of insulation, in addition to being safe. The fiberglass alternative isn't inherently unsafe, but breathing in the microscopic particles from it if it becomes damaged or has to be removed can be. Cellulose insulation is made from recycled materials and heat-resistant material to make it safe and easy to install.
It helps your AC work more efficiently, and helps the environment too! The Department of Energy actually cites insulating your home's attic as one of the most important energy-saving projects you can perform in your home. The reason for this is because the energy you save won't have to be produced by power plants, therefore reducing pollution that could otherwise harm the ecosystem. Having cellulose insulation installed in your attic saves you money, improves AC efficiency and indoor air quality, and gives you bragging rights—you're saving the ecosystem!
One last note—a properly insulated home, in particular, a properly insulated attic, prevents long-term moisture damage. When an attic is not properly insulated, the rising heat and humidity that we Florida residents are very well familiar with can lead to moisture development, and subsequently mold and mildew growth. Not only is this damaging to your property, but it can negatively impact your health, too.
At North Central Florida Air Conditioning, we are "Improving Lives by Improving Homes!" Contact us today.