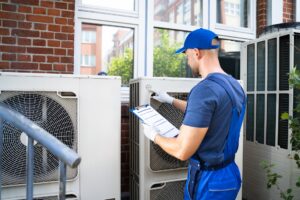 When investing in air conditioning services, it can be easy to point out whether you "need" a service or not. Do you need AC repairs or not? Do you need a new AC installation, or are you just fine? These are easy questions to answer, and you don't need to get into the weeds of how helpful they'll be if you don't need them.
AC maintenance in Gainesville, FL on the other hand, is not that kind of topic to cover. Just like spring cleaning or getting your taxes done early, AC maintenance isn't necessarily "needed" in that kind of way. But saying that it's not important is deceptive.
Maintenance is a service that will go a long way towards easing your energy bills, keeping your home comfortable, reducing repairs, and it will even be a resource to you and your family if you take advantage of it. Think of maintenance as a positive force for the future, instead of something needed for today.
Ask Questions and Stay Informed
One of the reasons why we refer to AC maintenance as a "resource" is because of how easily it can be used to be more informed. Think about it: a professional HVAC technician comes to your home to spend time checking on your system and tuning it up. Nothing is inherently wrong with it and it's still working to cool your home, which means there are no emergencies and there's no stress.
So, with all of the complications that come with a repair out of the window, you can feel free to ask your technician questions about the system.
"How long will the system last from here?" This is a great question to get started, and any reputable AC technician will be able to give you a good idea.
"Are there any noticeable problems?" An HVAC technician will probably tell you certain areas of your system that might run into problems down the line.
"How's the energy efficiency?" This is an easy but great question to ask. A professional will be able to talk to you about SEER ratings and where your system fits on the efficiency scale.
Don't hesitate to be friendly and inquisitive! A great HVAC technician should always be able to help you learn more about these important comfort systems.
Get Your Cooling System Tuned Up
Then, when you're finished asking questions, let your HVAC technician work their magic! AC maintenance includes a seasonal tune-up, inspection, and cleaning. Each of these jobs does something different, but they all work towards keeping your home comfortable and efficient.
The tune-up is all about improving the output and performance of your system. Even small components can be replaced out or tightened so you get the most from them.
The inspection ensures that the system is in good shape for the season ahead, or at least until the next maintenance appointment.
The cleaning is required to keep coils and sensitive components working properly, since they can collect dust and dirt.
And voila! With such a powerful resource at your side, you'll be ready and excited for the warm months ahead.
We work on Improving Lives by Improving Homes! Contact North Central Florida Air Conditioning for a job well done.