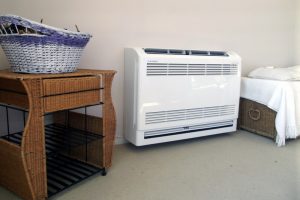 Ductless heating systems are all the rage these days, and for good reason! They're hyper-efficient, powerful enough to last all season in our climate, and they're flexible where other heating systems can be a drag. If you're looking to upgrade your aging heater or you're just trying to see what efficient systems are out there, look no further!
Today we're going to be going over some of the advantages of a ductless heating system. We understand, our heaters aren't used too much in this climate, but homes still need a way to deal with the few chilly nights that occur every year. If you decide to look into ductless systems in Gainesville, FL we promise you that you'll be surprised by the sheer amount of benefits that can come from it, not to mention the amount of money you'll save.
Not convinced? Let's take a look.
Versatility
Versatility isn't a word that's usually used in regard to heaters, but let us explain. Ductless heating systems are more versatile than other conventional heaters, because of their ability to customize their comfort levels depending on how many units exist in your home. Since warmth is sent from air handlers located at different points in your home, you can set each air handler to provide heat at a different temperature to the specification that fits you and your family. Want your bedroom warmer than your kitchen? No problem!
No Ducts, No Problem!
Ductless heating systems don't require ducts. While you probably already knew that, given the name and all, what you might not have known is that ductwork is incredibly expensive to install. Not only is ductwork a major pain to your wallet, but it can be a pain in general—requiring extensive and intrusive procedures that run through the entirety of your home. Don't pay for duct and ventilation work if you don't have to, sign up for the much easier installation of a ductless heating system.
Efficiency Matters
Heat pumps don't work like furnaces. Instead of burning fuel or heating coils to produce heat, which is what a furnace does, a heat pump transfers heat from one location to another via refrigerant, exactly how your air conditioner works. The process of moving heat instead of creating heat is much more efficient and saves on the cost of energy tremendously.
While we're on the topic, if you're in the market for an air conditioner too, we provide service for heat pumps that both heat and cool your home as well! So, why not kill two birds with one stone today?
Lower Emissions
We're blessed with a pretty beautiful environment down here in Gainesville. Why not help keep it that way by lowering your carbon footprint instead of burning fossil fuels for your heating needs. Ductless heating systems rely on electricity to function, which means they don't burn any fuels like oil or natural gas. In a climate like ours, ductless systems lower the effect on the environment by a wide margin and depending on how your municipality generates electricity, it can be an environmentally friendly choice!
Get your ductless heating system installed today by contacting North Central Florida Air Conditioning. Improving lives by improving homes!