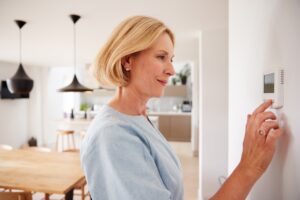 There are plenty of scenarios that can happen when you turn your heater on for the first time this season. It can come on without a hitch and act like it did last season, which is the best possible outcome. It can turn on with some minor problems that make you raise your eyebrow high. Or, it could not even turn on at all—signaling something sinister at the bottom of it.
For those who turn their heaters on without a hitch, congratulations! You probably don't need furnace repair in Gainesville, FL.
For everyone else, keep reading. We're going to talk about some of the normal occurrences when you turn your heater on for the first time in the fall, and some problems that can absolutely require our services. Stay vigilant and make sure you help your heater wherever possible.
What's That Smell?
One of the first noticeable things that can happen when you turn your heater on for the first time of the season is a strange smell. Often times, this is just the gas or electric furnace burning the dust and dirt that has settled inside the system while it has been kept in your basement all summer long. This can usually be natural and it ends after only a few minutes, so you shouldn't panic.
However, if you smell something like gas, or the scent of dirty socks coming from your heat pump as it heats your home, there's something that needs to be fixed. We recommend turning your system off and calling for professional help as soon as possible. Leaking gas, carbon monoxide, and other problems can be bad for your personal health and signify a problem that needs to be repaired in your heater.
Problems with Your Heater
Anyone else that might turn on their heater could encounter something a little different. Take a look below at some problems that could arise upon heater start up and see if you need our help.
Low heating output. A heater is supposed to keep your home warm, regardless if its a furnace or a heat pump. If your heater—right from the getgo—is struggling to heat even a few rooms, there could be something that needs to be repaired. Call us to schedule heater repair today.
Inefficiency. How were your heating bills last year? How about this year? Take a closer look at your bills and check to see if you're wasting energy. A wasteful energy or fuel bill means your heater is functioning inefficiently, which is cause for you to call us for maintenance or repairs.
Strange noises. Is your heater rattling? Is it booming? screeching? These are not normal noises. We're not trying to be alarmists here, but your heater making noises is one of the easiest ways for you to tell that there's something wrong with it.
Starting your heater for the first time in the season should be an exciting time, not something that causes stress and anxiety. If you're stressed about a problem affecting your heating system, don't hesitate to call us.
Call North Central Florida Air Conditioning today to improve your heating system. Improving lives by improving homes!